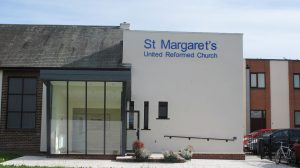 St Margaret's history began in 1937 when the former Laygate Presbyterian church in South Shields was in decline. The decision was made to close the Laygate church and  found a new church to serve a council housing estate that had been recently built in the Cleadon Park area of the town. The new church was to be known as Cleadon Park Presbyterian Church. Land at the junction of Centenary Avenue and Prince Edward Road was bought for £700 on which a church and hall were to be built. As a temporary measure a wooden structure, affectionately known as 'the Hut', was donated by  Mr John Chalmers and installed in the grounds where the proposed church was to be built, and this was used until the new church was ready. Work on the new church buildings was started in the summer of 1939 but, sadly, work had to cease because of the outbreak of the Second World War. Work on the new buildings was restarted in 1951, but, because of rising costs, a decision was made to dispense with the construction of a separate Church and Hall. Instead, a multi-purpose  Church/Hall was built which eventually opened in 1952. The picture above shows the laying of the foundation stone by the aforementioned Mr John Chalmers. The name of the church was also changed at that time to St Margaret's Presbyterian Church.  St Margaret's became part of the United Reformed Church at its inception in 1972.
An amalgamation of the South Tyneside churches began in 1977 when St Margaret's, Ocean Road, St Paul & St John's and St Andrew's (Tyne Dock) became a group pastorate.
St Andrew's closed in 1981
The South Shields Group was dissolved in 1985, and the joint pastorate with Ocean Road was revived.
Ocean Road closed in 1989
St Margaret's became a joint pastorate with St Andrew's (Hebburn) in 1990 and
St Paul & St John's joined the group in 2007.
The pastorate website can be found at southshieldsandhebburnurc.org.uk